Pine Grove Cemetery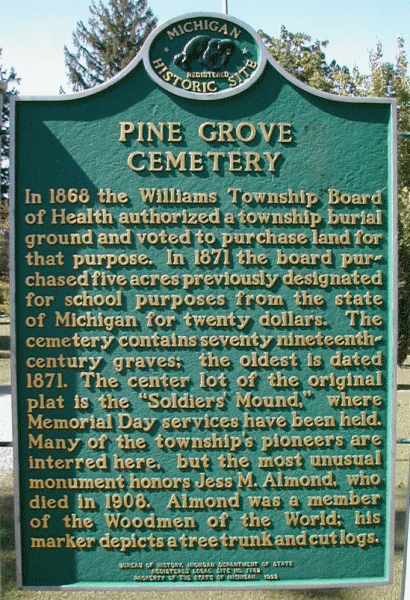 Pine Grove Cemetery is located two miles west and one-half mile north of Auburn, on the northwest corner of Eleven Mile and North Union Roads. It is township owned.
In 1868, the Williams Township Board of Health authorized a township burial ground and voted to purchase land for that purpose. The cemetery was surveyed and platted in 1875 although burials had been made before that time. Each "lot" had spaces for six burials and sold for $5.00.
The cemetery contains seventy 19th century graves; the oldest is dated 1871. The center lot of the original plat is the "Soldiers' Mound", where Memorial Day services are held.
Pine Grove cemetery was recognized as a historic site on October 12, 1990 and is listed in the Michigan State Register of Historic Sites by the Michigan Historical Commission.
Burial Space Fees
Williams Township and City of Auburn Residents - $250.00 per space
Non-Residents - $1,000.00 per space
Grave Opening Fees
Weekday Burials
$550.00
Saturday Burials
$650.00
Cremains
$150.00

Cremains - Saturday Burials

Cremains placed into above-ground Memorial

$175.00

$75.00
*No Sunday Burials*
Concrete Monument Foundation $.40 per square inch (foundation will not be constructed until the fee has been paid in full).
All prices effective January 1, 2019
Policy Regarding Burial Plots within Pine Grove Cemetery
Pine Grove Cemetery Rules and Regulations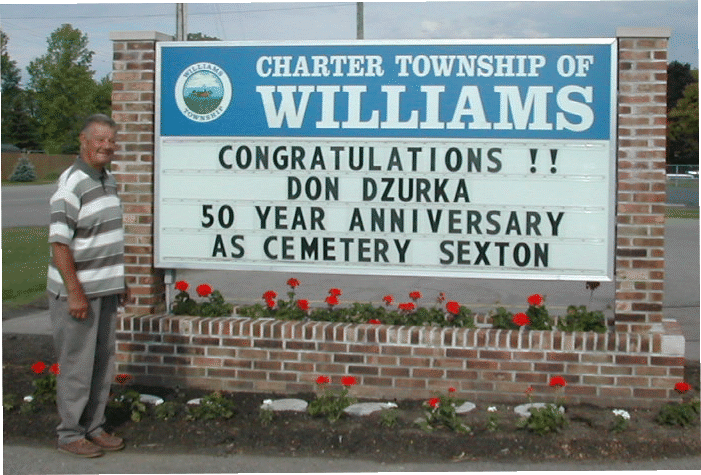 Don Dzurka, Cemetery Sexton 1952 - 2017