Township History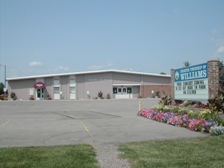 Williams Township is located in the farthest southwest corner of Bay County. It is six miles square and is bordered by Midland on the west and Saginaw County on the south. The City of Auburn is surrounded by Williams Township. This is rather a rural area with many good farms but it is also a bedroom community for the many people employed in the nearby towns of Bay City, Midland and Saginaw.

Williams Township is the second oldest township in Bay County and dates back to before the county was organized with the first settlers arriving in 1854. Williams Township officially became a township in 1858. The waterways were the early roads and travelers often camped along the banks with Indians overnight. Many of the creeks in Williams Township are named for early settlers such as Bradford Creek, Culver Creek, Hoppler Creek and Dell Creek. These creeks, or county drains, terminate in the south branch of the Kawkawlin River in Section 12.

The earliest road was a "blazed trail" between Bay City and Midland and became a plank "toll" road about 1872. Prior to road improvements, the bare necessities of living such as salt and flour were often carried on a man's back from Saginaw as much as 100 pounds of flour at a time. Lumbering was a first industry as wood was needed for homes and fuel, and land needed to be cleared for farming. Population greatly increased with the plank road. Coal mining soon was important.

In 1868 Williams had one blacksmith shop, two saloons, two stores, 2 lodges, 2 sawmills and a shingle mill. The first post office opened that year. Soon there was a school, churches and a doctor.

Today, Williams Township is thriving. There are excellent schools, many churches, a beautiful park and good roads with easy access to major highways and airports.